Proudly Serving Our Michigan Community
---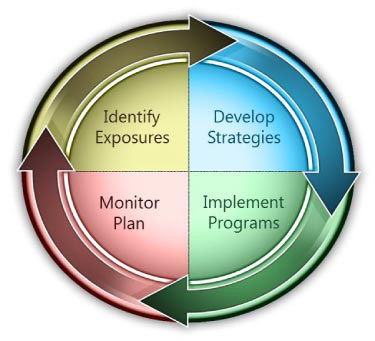 Why choose RiskGUIDE360™ for your Risk Management Process?
Our Approach
We help you reduce risk, not just purchase insurance! Our approach is a four-step RiskGUIDE360™ process used to identify, understand, implement, and monitor risk management strategies for your business.
---
Here we briefly examine those four steps:
STEP 1 – IDENTIFY EXPOSURES
During this crucial initial phase, we invest the time to understand every facet of your business in order to help you and your team identify the risks that face your business. By evaluating the effectiveness of risk management programs, practices, and resources under real-world conditions, we assure that your assets receive precisely the right type of protection.
STEP 2 – DEFINE STRATEGIES TO HANDLE RISK
Once we have developed a thorough understanding of your business, including your industry, corporate culture, and operating procedures, we move beyond insurance, exploring a spectrum of proven alternative strategies to minimize risk and reduce insurance costs.
STEP 3 – IMPLEMENTATION OF PROGRAMS
During the implementation process, we put in place specially tailored programs and strategies designed to protect your assets while reducing insurance costs. A strong belief in our process motivates underwriters to offer much lower insurance costs on your behalf.
STEP 4 – ONGOING MONITORING & ADJUSTMENT
You and your business are dynamic – what works for you today might not work as well tomorrow. For this reason, we continue to monitor and adjust your risk management programs to ensure a perfect fit as your business evolves and changes.
Our 360 consultative process has proven results!
"Your Business is Our Business"
Others may rush to enter your information into a spreadsheet and come up with a quick calculation. But at Wolf-Chandler, using the RiskGUIDE360™ process, we learn about every facet of your business, how you operate, your goals, and what keeps you up at night—because you're more than just a quick transaction to us.
Our innovative process takes a more detailed, complete approach in matching you with a solution that will meet your business needs and proactively reduce risks 365 days a year.
Yet, finding the right insurance coverage is just half the job. We recognize running a business comes with ongoing risks. That's where we go beyond insurance to develop risk management strategies tailored just for you. And because your business is always evolving, we'll monitor risks along the way. Think of us as an extension of your business—a partner you can always count on.

Matthew Wolf, MBA, CPIA, AAI
Partner

Steve Iuppenlatz, CPIA
Partner
To Our Clients, We're the Total Package
We work hard to win our clients over day after day. These clients range from small, family-owned businesses to complex, million dollar corporations. We also serve a multitude of industries, including manufacturing, distribution, construction, healthcare and municipalities to name a few.
Each client looks to us as a valuable partner, providing business insurance solutions such as:
Property
Business Liability
Auto Liability
Worker's Compensation
Umbrella Liability
Directors and Officers
Bond
Equipment Breakdown
Professional
Cyber/Data Breach
Employment Practices
Pollution
Trade Credit/Accounts Receivable
Employee Benefits
---

We want you to have a positive overall experience with Wolf-Chandler Agency, LLC. Our one-on-one service approach is our #1 goal for all our insurance clients. Give us a call at (248) 952-9500 or contact us through our easy-to-use form and we'll be happy to answer any of your insurance questions.