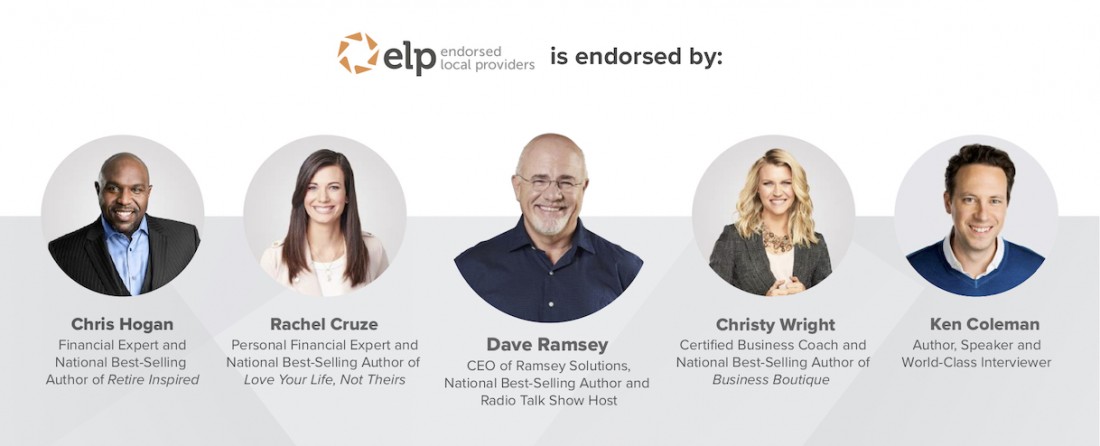 Matthew Wolf is proud to be designated as a Dave Ramsey Endorsed Local Provider (ELP) for Property & Casualty Insurance!
America's trusted voice on money and business, Dave Ramsey is a personal money-management expert and extremely popular national radio personality. His seven best-selling books—Financial Peace, More Than Enough, The Total Money Makeover, EntreLeadership, Dave Ramsey's Complete Guide to Money, The Legacy Journey and Smart Money Smart Kids—have sold more than 10 million copies combined.
Dave Ramsey offers his life-changing message as host of a nationally syndicated radio program, The Dave Ramsey Show, which is heard by 13 million listeners each week on more than 600 radio stations and digitally through podcasts, online audio streaming and a 24-hour online streaming video channel. In 2009, he was honored as a National Association of Broadcaster's Marconi Award winner. Ramsey was inducted into the NAB Broadcasting Hall of Fame in 2013 and the National Radio Hall of Fame in 2015.
He is the creator of Financial Peace University (FPU), a program that helps people dump their debt, take control of their money, and learn new behaviors around money that are founded on commitment and accountability. More than 4.5 million people have attended Financial Peace University, Legacy Journey and Smart Money Smart Kids classes at their workplace, church, military base, local nonprofit organization or community group.
ELPs earn Dave's endorsement through their track record of success and commitment to fantastic customer service.
Being an ELP isn't easy; it's hard work because ELPs are held to high standards. We have earned Dave's recommendation by consistently providing excellent customer service.
Dave's team wants you to have a great experience working with us as an ELP. That's why we were carefully vetted as an ELP into the program and are held accountable through coaching from the Dave Ramsey team. You can be confident you're working with the best when you partner with us as an ELP to reach your goals.
Learn more at: https://www.daveramsey.com/elp/why-use-an-elp
---

We want you to have a positive overall experience with Wolf-Chandler Agency, LLC. Our one-on-one service approach is our #1 goal for all our insurance clients. Give us a call at (248) 952-9500 or contact us through our easy-to-use form and we'll be happy to answer any of your insurance questions.