Business Insurance Agents in Farmington Hills, Michigan
---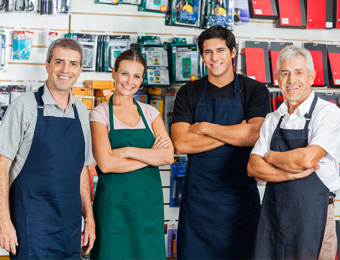 Keeping Business Insurance Affordable and Thorough
At Wolf-Chandler Agency, LLC, we pride ourselves in evaluating your business insurance needs. We take the time to find out the different challenges your industry may have for insurance concerns, and then tailor a package that fits your risks.
We also look at other exposures your business may have according to your personnel, location and future plans. Your price gets even better if you qualify for any of our available discounts.
Our top-rated companies work with local businesses as well as global providers to ensure even the worst disaster won't affect your business adversely. We design a specialized package according to your property, liability and casualty needs. We are also proactive in identifying any factors that may increase your premiums or change your risk, and provide consulting and risk management options to protect your business.
Our business insurance services include:
Business Owners Policy (BOP)
Commercial Auto
Bonds
Surety
Fidelity
Commercial Building Property
Apartment Building Owners
Condominium Association Owners
Retail Stores
Store & Lock Centers
Church Insurance
Aircraft
Builders Risk
Nursing Homes
Pressure Vessel
Professional Liability Insurance
Directors & Officers
Medical Professional
Liquor Liability
Cyber Liability
Landscapers
Pollution Liability
Foreign Liability
Painters
Business Overhead
Inland Marine
Staff Leasing
Crime
Equipment Floater
Buy/Sell Funding
Special Event
General Liability
Contractors
Plumbers
Property Managers & Owners
Electricians
Workers Compensation
Group Health
EPLI - Employment Practices Liability Insurance
Employee Benefits
Hotel Insurance
Manufacturing
Waterworks Industry
Ocean Marine
Restaurants
Wind
Woodworkers Insurance
Boiler Machinery
Errors and Omissions
Tailored Packages for Strip Centers
Service & Repair Insurance
Garage Keepers
Auto Body Shops
General Repair Shops
Professional Liability Insurance Solutions
Professional Liability Insurance, or PLI, is a form of liability insurance necessary to help protect businesses in the service or consultant industry. A claim of negligence can be very damaging to a growing business and can be catastrophic if the claim results in monetary damages.
At Wolf-Chandler Agency, LLC we have the experience and expertise needed to evaluate the risks associated with your service or consultative-related business or profession. Our experts can advise and provide appropriate coverage through one of our highly rated insurance companies.
Professional liability can take on different forms or names. Some of the types of coverage included are:
Cyber Liability
Foreign Liability
Liquor Liability
Pollution Liability
Errors & Omissions
Professional liability Insurance covers potential losses that are not typically covered by a general liability policy. Some of the businesses/professionals we help are:
Insurance Agents
Consultants
Brokers
Lawyers
Engineers
Accountants
Medical Professionals
See How a Data Breach Can Affect Your Business
---
Business Auto Insurance
Commercial auto insurance insures your vehicles for physical damage and liability coverages when the amounts, situations and usage are not covered by a personal auto policy. This type of business insurance covers a variety of vehicles and is also referred to as commercial car insurance, truck insurance, or fleet insurance. Our agents at Wolf-Chandler Agency, LLC will help you find the best coverage fit for you.
See How Business Auto Insurance Can Benefit You
Why Do You Need Michigan Commercial Auto Insurance?
In general, if an auto is used in tasks related to the operator's occupation, profession or business (other than commuting), a commercial policy is necessary.
If you are using your auto to transport goods or people for a fee, or if you use your auto to conduct a service, you may need a commercial auto insurance policy.
A commercial auto policy may be appropriate if you need higher limits of liability because of the nature of your work.
Hauling a considerable weight in tools or equipment, or towing a trailer used to conduct your business, may require a commercial auto insurance policy.
A commercial insurance policy may be needed if additional employees operate the vehicle or if ownership is in the name of a corporation or partnership.
What Does Commercial Auto Insurance Cover?
Commercial auto insurance, like your personal auto policy, provides similar coverages, such as liability, collision, comprehensive, medical payments (or personal injury protection) and uninsured motorists coverage to Michigan businesses. However, there are also differences between a commercial auto insurance policy and your personal auto policy that may include eligibility, definitions, coverages, exclusions and limits.
Most commercial auto policies are "named-driver only" policies, meaning only those drivers listed on the policy can operate a covered auto.
What are the coverages?
Bodily Injury Liability Coverage
Pays for bodily injury or death resulting from an accident for which you are at fault and provides you with a legal defense.
Property Damage Liability Coverage
Provides you with protection if your car accidentally damages another person's property. It also provides you with a legal defense.
Combined Single Limit (CSL)
Liability policies typically offer separate limits that apply to bodily injury claims for property damage. A combined single limits policy has the same dollar amount of coverage per covered occurrence, whether it be from bodily injury or property damage.
Medical Payments, "No-Fault" or Personal Injury Coverage
Usually pays for the medical expenses of the driver and passengers in your car incurred as a result of a covered accident regardless of fault.
Uninsured Motorist Coverage
Pays for your injuries and, in some circumstances, certain property damage caused by an uninsured or a hit-and-run driver. In some cases, underinsured motorist coverage is also included. This is for cases in which the at-fault driver has insufficient insurance.
Comprehensive Physical Damage Coverage
Pays for damage to, or replacement of, your car from theft, vandalism, flood, fire and other covered perils.
Collision Coverage
Pays for damage to your car when it hits, or is hit by, another object.
Give us a call today and let one of our experienced agents evaluate the liability risks unique to your business or profession!
---

We want you to have a positive overall experience with Wolf-Chandler Agency, LLC. Our one-on-one service approach is our #1 goal for all our insurance clients. Give us a call at (248) 952-9500 or contact us through our easy-to-use form and we'll be happy to answer any of your insurance questions.